The Palmetto Peaches have been featured on Her Hustle!  Acecily and I still have a lot to do and things we want to accomplish ( #GirlBoss), but I'm so proud of how the blog is growing.  Click the image below to check out the piece!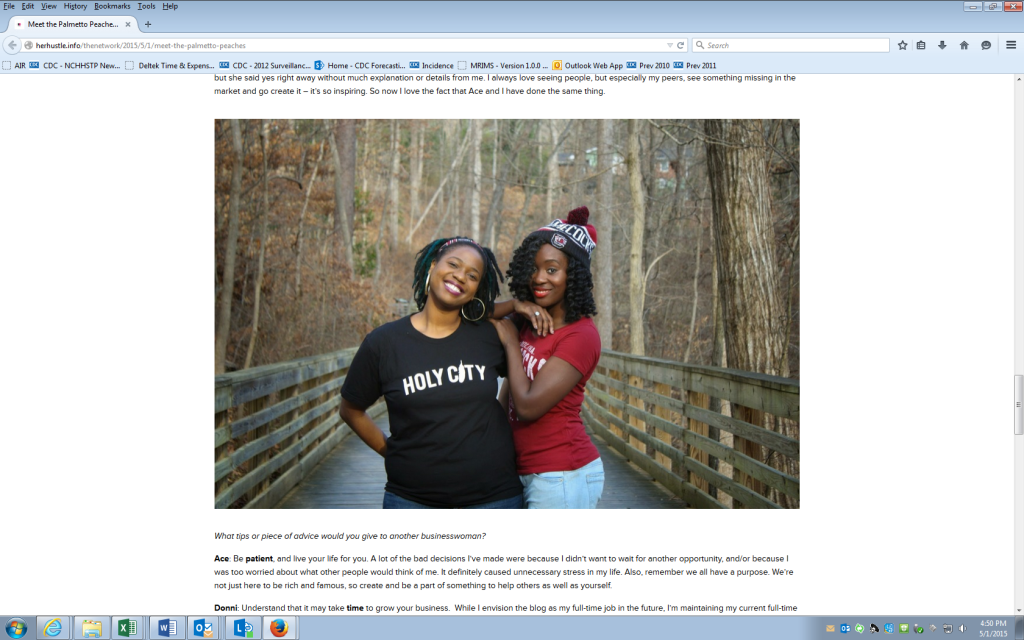 While I envision the blog as my full-time job in the future, I'm maintaining my current full-time position as the blog grows. I'm not naturally a patient person, but when it comes to this, I'm willing to put in the work and wait for our blog to do the great things I know it can.
I'm working on a post about the things I've learned so far – a "Blogging 101" if you will. However, I think one of my biggest takeaways so far has been to look at my blog as a business. Yes, I wanted a creative outlet, but I see the potential beyond just a "blog".  I'm excited to use this blog to create a community. I think there are a lot of people out there that will connect with our stories.
#Girlboss
Everyone knows I usually travel with my Kindle, but with everything going on lately I haven't set out time to just sit down and read.  I've jumped back on Goodreads and put several books on my reading list. I just finished The Misadventures of Awkward Black Girl. And next on my list is #Girlboss.
"Abandon anything about your life and habits that might be holding you back. Learn to create your own opportunities. Know that there is no finish line; fortune favors action. Race balls-out toward the extraordinary life that you've always dreamed of, or still haven't had time to dream up. And prepare to have a hell of a lot of fun along the way."
― Sophia Amoruso, #GIRLBOSS
So with that being said, I'm creating my own opportunities and hope you do the same!
Until next time!