Topshop, Zara and Forever 21 are my go-to stores to pick up a few affordable seasonal items to spruce up my wardrobe. There are only three retail stores in the United States: San Francisco, NYC and thankfully there's one here in Atlanta! However, I'd definitely suggest you check them out online.
They have great pieces for my fellow trendy young professionals. And before you're add everything you like in your shopping cart be sure to enter the Zara giveaway I'm co-hosting with several amazing bloggers: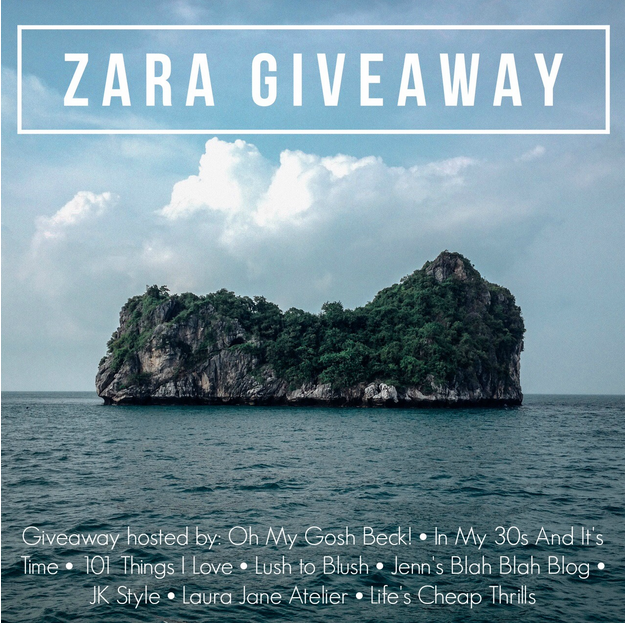 GIVEAWAY DETAILS
Prize:
 $200 Zara Gift Card
Co-hosts: In My 30s And It's Time • 101 Things I Love • Lush to Blush • Jenn's Blah Blah Blog • JK Style • Laura Jane Atelier • Life's Cheap Thrills • Bless Her Heart Y'all •  Twenty-Something Blog • Avec Amber • Cameron Proffitt
Giveaway organized by: Oh My Gosh Beck! (Please email becky@ohmygoshbeck.com with any questions.)
Rules: Use the Rafflecopter form to enter daily. Giveaway ends 6/18 and is open worldwide. Winner will be notified via email.
Are you a blogger who wants to participate in giveaways like these to grow your blog? Click here to find out how you can join a totally awesome group of bloggers!
I'm clearly in the giveaway spirit. If you didn't know I'm co-hosting a $400 Nordstrom giveaway over @ The Palmetto Peaches. You have until June 4th to enter!
Until next time dolls and gents!!