It's hard to believe The Palmetto Peaches has been up and running for over seven months. When I made my first online portfolio/blog, Smalls.Talk, I didn't even know there was a difference between wordpress.com and wordpress.org (other than one wasn't free.) I've come a long way since then. I'm learning that besides content creation there is so much more to blogging. So I've pulled together a few of my takeaways so far in this blogging 101 post.
Create Quality Content
People have been saying it for years, and the saying still holds true. Content is king. Without well-written and engaging content, your blog isn't going to go anywhere. Yes, your blog design and your marketing tactics are important, but they're practically useless if you don't have quality content. People may come because of the marketing, but they'll stay when you deliver content they need or are interested in.
As a lifestyle blogger, it's easy to just write about interesting entertainment focused pieces. However, I'm learning that people want to find people that they can relate to. While they will chuckle at my ramblings about which TV couples I love to love – they really connect when I open up. I wrote a post about my feelings about the Charleston shooting and the comments and feedback I got were really touching.
I still have yet to conquer my fear of writing more personal posts because in general, it's hard to put yourself out there. Especially in the world of internet bullies, who quite enjoy judging others from their high horse on the other side of a monitor. However, people are going to have their opinions and for every negative comment, there will likely be a positive one. We all have stories to tell and as a blogger, I'm going to have to start sharing mine to encourage more people to return to the blog.
Editorial Calendar
My favorite tool is my blog planner paired with my Erin Condren Life Planner.  While I love my site stats and Google Analytics dashboard plugins on WP, I will forever be a paper and pen kind of gal. I use my blog planner to track blog traffic (daily and monthly page visits) and social media growth so that I have an overview of how the blog is growing. Having this all in one place is helpful to evaluate how and where we can improve the blog.
I use the monthly view as a quick look at all upcoming posts.  We plan all of our posts in advance and this editorial calendar keeps us on track and makes sure we posting regularly (something I have yet to do here one donnicakelsey.com). The weekly section of the planner is for more detailed lists. I write out what promotion tactics I plan to use, what days I'll work on graphics and which are solely for writing.  I also keep a running list of post ideas in the planner, as well.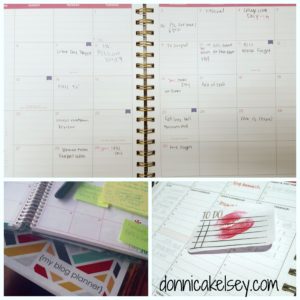 My Favorite Plugins
Before launching The Palmetto Peaches, I had an elementary idea of what SEO consisted of. Essentially I associated SEO with just being higher up on Google's search results page. That is part of it, but SEO  generates traffic to your website, makes your site friendly to search engines, and also markets the unique value of your site. Yoast SEO helps you do these things by analyzing the content of your pages and providing recommendations. It's simple to use and even incorporates social media.
To encourage more comments on your blog, you can reward your readers for leaving comments with commentluv. This plugin list your commenters last post alongside his/her comments, rewarding them with a link back to their blog.
With Editorial Calendar, you can view the upcoming posts for that month,  schedule posts, move them around to different days in a drag and drop format.  You can also edit titles, change content, change scheduled times from the calendar.
Learning How to Self-Promote
Kevin Costner's character in Field of Dreams says, "If you build it, he will come". Although that is often misquoted as "If you build it, they will come."  Either way this does not ring true when it comes to blogging. While it would be nice to create content and with the help of some SEO, sit back and watch traffic pour in, it just doesn't work that way. I've joined  Facebook groups, Twitter chats and blogging communities all in the name of self-promotion.  Commenting on other blogs (hello, commentluv) is another way  to self- promote.
That's all I have for now, but I'm sure as I continue my blogging journey I'll have more lessons to share.  I'd love to hear some lessons learned from other bloggers out there – leave a comment below or tweet me at @donnicakelsey.